Tom & Pam
Together we have understood how to let go of what no longer serves. We have noted the changes in nature through our closeness to it, and have noted the stress on humanity due to systems that divide people, create false narratives, and create impossible expectations. As parents, we have experienced all the niggles and joys of life in the context of out-dated and imploding systems (educational, ecological, economic, geo political).
We have brought this understanding to others through retreats, courses and advisory services to help individuals and teams come to a better understanding of what no longer serves them, and how to fix it to create a sounder business, a broader mind, and a happier life.
TOM
Tom is a financial engineer, organic grower, author, and system change expert who chose to let go of a successful venture capital career to find another way. He became an organic smallholder, purely to re-align his values with his behaviour.
After graduating from Eton, Tom completed a BSc in Economics at the Wharton School of Business, U Penn. After working for Morgan Stanley and the Hong Kong Industrial Technology Company, he earned an MBA at IMD (International Institute for Management Development). He built a career with Crosby Asset Management in Hong Kong and Thailand before heading to Ireland to change things up, first by converting the family estate to organic certification. He has pursued various projects in organic farming, business turnaround (including launching the first organic vegetarian restaurant in London (2001)), and continues to challenge the status quo and coach others in system change.
PAM
On completing a BA (Literature) in her native Canada, Pam moved to Hong Kong where she worked for Dow Jones Telerate and Morgan Stanley in marketing and human resources roles. Pam left the sector to focus on the family. She was a volunteer editor for an arts and culture magazine for two years, and received a diploma in journalism in 2003. Her budding curiosity about yoga led her to train to teach in 2000. She's introduced yoga to well over a thousand people in the local community, from children to over 80s. A part time MBA in 2014 helped to refine business and marketing skills.
Tom and Pam enjoyed a private audience with President Higgins to present him with a copy of Common Sense.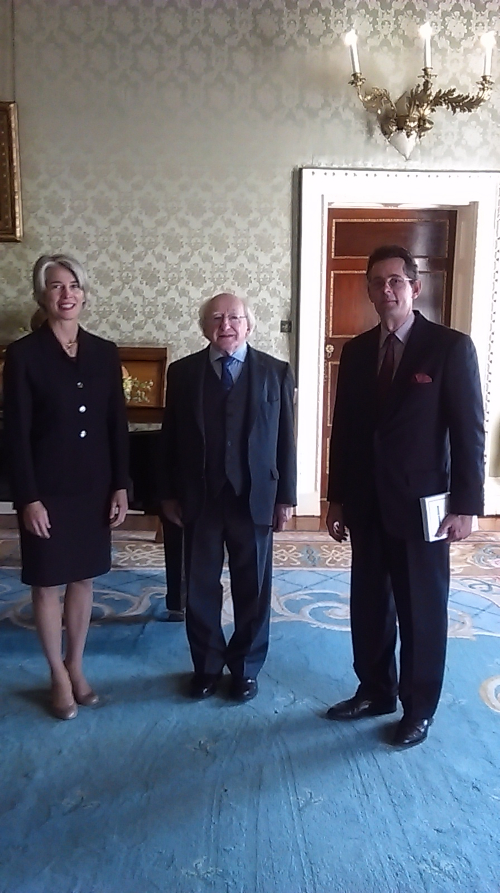 Tom & Pam in the garden
Research shows that being in contact with the soil has a positive impact on mental health. It also creates "food empathy", creating a greater awareness of what is involved in feeding ourselves well. We use "food mindfulness" as part of our training because the production and consumption of food is a major factor in global resource use.
Tom with a group in the compost heap
The cycle of life, and all its implications, from death to religion to business management to advertising and global consumption, have the humble analogy of the compost heap. Here Tom discusses the science and philosophy of cradle-to-cradle resource management on one of our courses.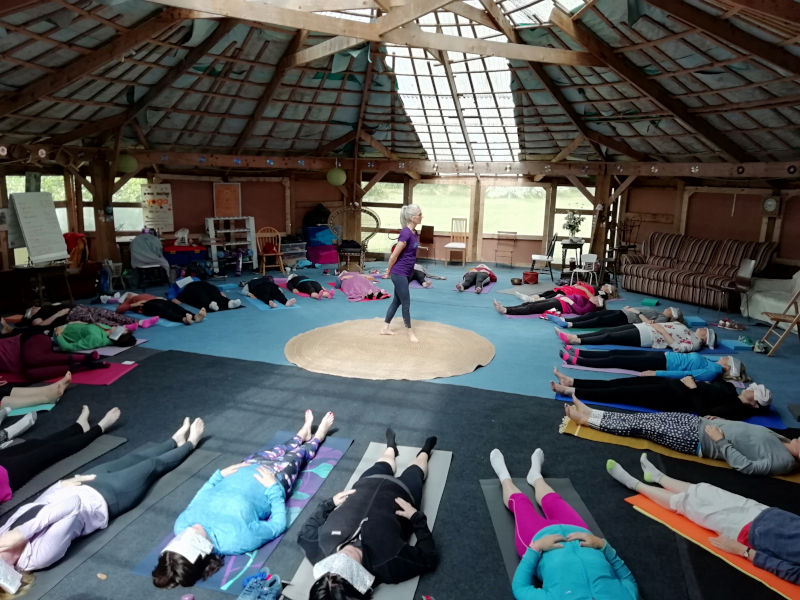 Pam teaching yoga in The Tent
You don't have to do yoga to manage stress, but it is one of the arts of self-awareness that lends itself easily to stress management techniques. Pam transmits a sense of calm and stillness to large and small groups, which has helped people to learn useful tools for relaxation, mindful breathing and meditation. Whether it's in a lush walled garden or in corporate HQ, clients say that the simple tools work.